First Lady Prentiss McClelland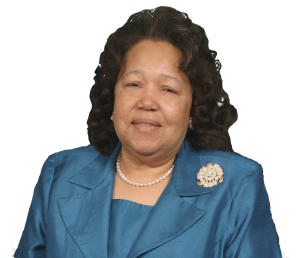 Prentiss was born and raised in Denmark, Tennessee and is the seventh child of 10 children. She moved to Milwaukee, Wisconsin after graduating from high school to attend UW-Milwaukee to study Journalism.
She met her future husband Charles McClelland in Milwaukee.  Lady Prentiss McClelland is the wife of Bishop C.H. McClelland, and has been married to him since July 1974. God has truly blessed their marriage.
Prentiss serves as the Vice President of the "Word of Hope Ministries" (1995) a separate nonprofit 501c3 organization of Holy Cathedral.  Her responsibility is to oversee the day to day operations of all the components of this ministry.  This includes Health Care, Social Services, Employment, ATODA (alcohol, tobacco and other drug abuse), a Prisoner Re-Entry program and two computer labs in the Family Technology Resource Center.  She has worked  countless hours at WOH since its inception in 1996.  Word of Hope is "A Ministry That Touches People" and she is fulfilling her mission.  She also worked at Blue Cross Blue Shield for over twenty years.
Lady McClelland serves in many capacities at Holy Cathedral.  She is the Editor of the Newsletter Committee, Director of Women's Ministry, and serves as Coordinator for the Church Bulletin Committee and Church Announcers.  She is active in the Bethel District Northwest, WI Jurisdiction.  Lady P. McClelland is a very gifted and anointed Teacher/Speaker and has presented to Superintendents and Pastors Wives for several National Conferences.  She is the First Lady of the Wisconsin Northwest Jurisdiction.  Lady McClelland believes that "with God all things are possible".
Accomplishments:
Executive Chairperson of Holy Cathedral Women's Department
Coordinator of Holy Cathedral Pastor's Wife Aide, Nursery, Church Bulletins, Elders & Ministers Wives, Women's Choir & YWCC.
Editor in the publication of Holy Cathedral's Newsletter
Vice President of the Word of Hope Ministries
Presenter at the National Leadership Conference – Church of God In Christ
Presenter at the National Pastors & Elders Conference
Recognitions:
Pastor's wife since September 1982
"Women of Distinction" by the Northwest Wisconsin COGIC Links – Feb. 2002
Excellence in Community Service – CYD Annual Image Awards – Sept. 2002
Ladies of Distinction Award
Recipient of Black Excellence Award 2005 for Religion – Milwaukee Times
Giving
Donate to Holy Cathedral Church Of God In Christ to pay tithes, offering or building fund.
Download & Give through Cashapp
Cashtag: $HolyCathedral
Holy Cathedral Church Of God In Christ – 2677 N. 40th Street – Milwaukee, WI  53210 – Ph: 414-447-1967
Copyright © 2020 Holy Cathedral COGIC